Seasonal Tips
Look for future tips at the beginning of every quarter! Proudly keeping Charlotte GREEN. Check for water restrictions in your area by visiting your county's website. Though watering is allowed, let's keep doing our best to conserve!
Spring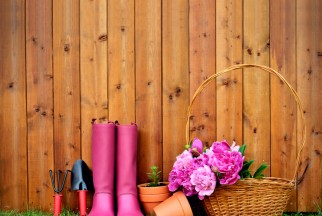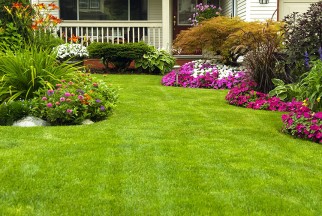 Spring is here and Summer is not far behind!  Here are a few tips from us to get your lawn looking great!
As the flowering blooms fade away (Azalea / Camellia), now is the time to prune to keep your bushes looking healthy and full through the summer.
Putting out fresh pine needle and/or mulch is a good way to keep your flower beds moist, giving young plants time to acclimate. Plus it adds curb appeal!
Irrigation systems can be started now, since we should be past freezes.  Be sure to thoroughly check your system for leaks and have repairs done now before the hot weather hits!
Summer annuals can be safely planted after May 1 since we are now past the frost time.  Don't wait too long though, as soil temperatures get hot and it is a bit tougher for young plants to adjust.
Late May to early June is the time for a second application of fertilizer.  There is a wide variety to choose from including those with weed control.
Although it's early, keep an eye out for disease such as brown patch, powdery mildew, etc., and insects such as grubs, leaf miner, lace bugs, tent caterpillars, etc.  Consult your local home improvement store for the best treatment options.
Summer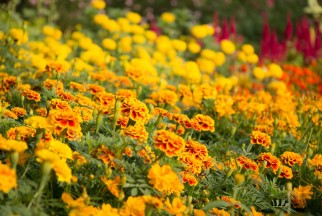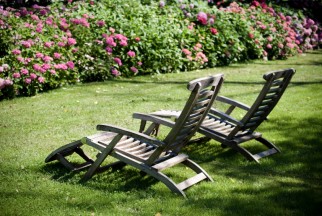 Summer is back! Along with plenty of sun and high temperatures!  The following are a few suggestions to help keep your lawn looking great!
Give a good balance of water to your grass. Mushrooms may be a sign of too much water, whereas yellow dying blades may be a sign of too little water.
Raise the mowing height of your mower. The taller grass will help shade the roots protecting them from drying out.
No need to fertilize Fescue. If you need more green, use Iron(Fe) with very little Nitrogen(N). This will help green up your lawn.
Warm season grass, such as Bermuda, will need fertilizer with more Nitrogen(N) through the summer months.
Brown Patch has arrived along with other plant diseases. If possible, water in the morning to help prevent disease from starting. For best control, treat any disease as soon as it appears.
Prepare to spray grass weeds now through August. Aeration and Fescue seeding is to be done from September through late October.
Continue to prune shrubs. You may want to selectively prune continuous flowering plants, such as Gardenia, in order to enjoy the colors and fragrances longer. Late July should be the last prune for fall and winter flowering plants like Camellia.
Low tree limbs are especially noticeable as the new growth appears. Keep branches elevated. This helps generate new top growth and maintains curb appeal.
Insects are here and some to watch for are Japanese Beetle, White Fly and Red Ants. Keep an eye on your Oak Trees since leaf eating worms generally appear in August.
Annuals should now be in full bloom. In fact, some could use pruning or pinching.  Keep flower beds weed free.  If color is fading, a boost of fertilizer may be needed.
Fall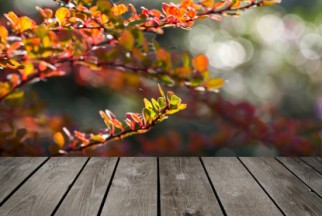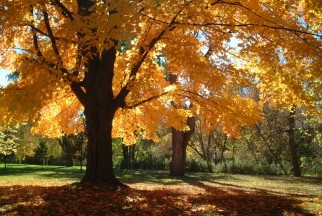 Fall is here and winter will be here before we know it! Below are a few reminders to keep your lawn looking it's best.
Aeration, seed and fertilizing should be done by mid-October for cool season grass.
Have patience when allowing new seed to germinate. If after 3 weeks, results are still poor, additional spot seeding may be needed.
Winter weeds may appear in your grass, (especially with aeration and new seed) wait until the new grass seed has been mowed repeatedly before treating weeds. This helps new seed to get established.
Any pruning done now should be the last until spring. Be sure not to cut too far back as new tender growth now will burn off with the first freeze.
October is a great month to change from summer to winter annuals.
Pansies are bright and colorful additions along with a variety of winter annuals to mix in also. Hold off on planting bulbs until soil temperatures cool down for the winter.
As temperatures cool, less water is required. But don't stop watering all together as plants can dry out in the fall and winter, just as they can during the summer.
Late November (Thanksgiving) is the time to winterize the back flow for irrigation systems.
Late November, after all the leaves have fallen, is also when trees should be banded to guard against spring cankerworm infestations. Your local hardware store can help you determine the best way to protect your trees.
A final winter application of fertilizer should be applied around late November/early December.
From all of us at Fitzpatrick Lawn & Landscape, have a safe and wonderful holiday season! Bring some greenery in from the yard to add to your decorations. Enjoy the smell of pine of a freshly cut tree!
MERRY CHRISTMAS!
Winter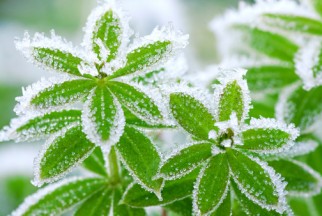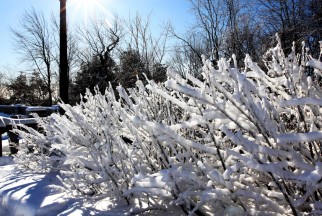 Winter is upon us as Christmas and the holidays have passed.  The following are a few suggestions as these short days grow longer.
Dust off the snow shovel and keep some ice melt nearby. We may not get the heavy snow falls like the North but we do get a lot of ice.
Be sure to water plants and flowers during long periods of dry weather, especially young ones. Although it may be cold, everything still needs a bit of water.
A little winter application of fertilizer to annuals helps give a boost to the blooms.
Late January is a great time to trim and prune Liriope and Crepe Myrtles. Tree pruning should be light and selective, less is always better during this time of year.
First quarter is a good time for new plantings as most plants are not actively growing and can adjust to the soil. Be sure material planted has been exposed to colder temperatures before planting in order to prevent frost burn.
Mulch beds to keep plants protected from cold and give the landscape a nice curb appeal.
Apply fertilizer to bulbs in mid February.
For cool season grass, late February to early March is a good time for the first application of fertilizer. This should include some sort of pre-emergent to help control new weed growth.